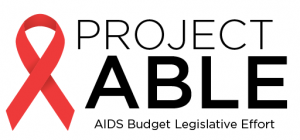 Project ABLE is a statewide coalition of AIDS service providers, advocates and people with HIV/AIDS. Since the early 1990's, Project ABLE has successfully increased state funding for HIV/AIDS by working effectively with several governors and their respective administrations, the Massachusetts legislature, and through mobilizing a grassroots network of HIV/AIDS service providers, advocates, and people with HIV/AIDS.
Read more About Us and our Participating Organizations.
Please join us for GETTING TO ZERO in Massachusetts,
Project ABLE's Advocacy Day at the State House
Advocate for HIV/AIDS/HCV funding on Thursday, April 14, 2016 at the Grand Staircase in the State House, Boston.
There will be speeches, a continental breakfast, and time to visit your legislators!
10:00-10:30 Registration
10:30-11:30 Program
11:30-1:00 Legislative Visits
Click here for the February 8 Advocacy Day Flyer.
Project ABLE Fact Sheet – Fiscal Year 2016 (DOC)
Please Fund the HIV/AIDS/Hepatitis C Line Item (4512-0103) at $35.2 M for FY 2017!
20,911 people are living with HIV/AIDS in Mass. while 4,200 more are unaware they are infected.
200,000 people are living with Hepatitis C (HCV) in Mass. and thousands are unaware they are infected.
African-Americans and Hispanics are disproportionately affected by HIV/AIDS.
Investment in HIV/AIDS prevention and care saves lives and money. It is estimated that for every dollar invested, the state saves four dollars in near-term health care costs. Since 1999, new HIV diagnoses in Massachusetts have declined by 41%, which means that the state has saved more than $1.7 billion.
While once steadily declining, the number of new HIV infections has plateaued over the last several years in Massachusetts. We have the tools to reduce new infections further. Renewed investment in Post-Exposure Prophylaxis (PEP) and Pre-Exposure Prophylaxis (PrEP), is vital in preventing new infections.
Project ABLE requests a $2.1 million increase to the line item (4512-0103) for a total of $35.2M to prevent new HIV and HCV infections and better care for people living with HIV, AIDS, and HCV.
Specifically, $2.1 million could fund:
HCV Prevention, Screening, Surveillance

: The FY 2015 state budget requires that DPH implement and maintain a program to reduce the spread of new infections through education, outreach, and prevention services. The program was never funded.
HIV Prevention

: Education and outreach is needed to expand the use of pre-exposure prophylaxis (PrEP), anti-viral medication taken by non-infected individuals that offers significant protection from the virus. A dramatic decrease in new infections would result. 
HIV/AIDS Support Services

: Supportive services are needed for the growing population of people living with HIV/AIDS, such as transportation, case management, and nutrition programs that keep people living independently in their homes and dramatically reduce transmission of the virus.
Getting to ZERO infections in Massachusetts is possible with investment in programs that work!
For more information, contact at HIVProjectABLE@aol.com or call 617.797.8488